WHEN: February 3-5, 2017. Registration to begin at noon on February 3, 2017, with all participants to be present by 11:30 P.M. on Friday, February 3, 2017 (unless other arrangements are made in advance with the event organizers). The event will conclude at approximately 10 A.M. CT on Sunday, February 5, 2017 (we'll have you home in plenty of time for the Super Bowl).

WHERE: In the vicinity of Fort Henry, Tennessee, in Land Between the Lakes. The location is approximately 10 miles from Dover, Tennessee.  Additional location details will be provided to those registered prior to the event. 

WHAT WE WILL DO: This event will recreate, on the 155th Anniversary of the surrender of Fort Henry, the advance on Fort Henry by the 31st Illinois Infantry Regiment.  Travelling through remote and non-modernized period roads, the 31st Illinois will advance along a large portion of the approximately six mile original route from Bailey's Ferry and Camp Halleck, the original Federal staging area, to Fort Henry. This advance will be contested by the patrols and pickets of the 4th Mississippi Infantry Regiment, which originally garrisoned the fort. These patrols and pickets will be at the same locations as those used 155 years ago. After completion of the march towards the fort, the 31st Illinois will occupy the captured campsites of the Fort Henry garrison.

As a part of this event, there will be a short (less than two hours) living history program for visitors to the Land Between the Lakes. This living history is planned in conjunction with an annual LBL program that educates visitors on the history of the Fort Henry site and campaign. This living history is a nice "thank you" to the Forest Service and Land Between the Lakes for their cooperation in allowing this event, as well as the Picket Post event.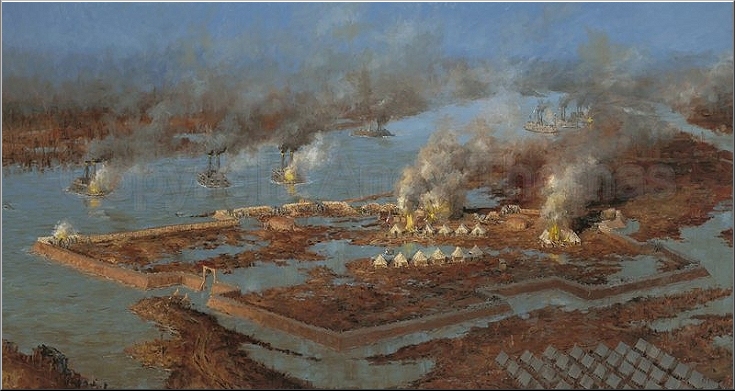 Advance on Fort Henry, Egyptians in Tennessee, Presented By Mess No. 1. All Rights Reserved



ADVANCE ON FORT HENRY EVENT INFORMATION








JOIN US ON FACEBOOK:
For all of the latest updates about Advance on Fort Henry, join us at our Event Facebook Page by
clicking here
, or just click on the Facebook logo. We will be make major announcements there and on
The Authentic Campaigner
. Stay informed. Join our page!