JACKET/COAT

Illinois State Issue Jacket (with epaulettes and belt loop on left side) with or without cuff buttons similar in style to the Spaulding Jacket

Illinois State Issue Jacket; style similar to New York State Issue Jackets with sky blue trim

TROUSERS

OVERCOAT

Enlisted Pattern Greatcoat

FOOTWEAR

Period Civilian/Private Purchase Boots or Shoes

SHIRT

Federal Contract Variant Issue Shirt

DRAWERS

Civilian/Private Purchase Drawers

SOCKS

Period Appropriate Wool or Cotton Socks

HEADGEAR

Dark Color Civilian Style Hat

WEAPON

1861 Springfield or Contract Variant

1842 Springfield or other .69 Caliber Military Issue Weapon

CARTRIDGE BOX

Pattern of 1857 or 1861 with shoulder belt

Bring Forty (40) Rounds in the Cartridge Box

CAP POUCH

WAIST BELT

BAYONET SCABBARD

Appropriate to weapon; early war Two Rivet Style

KNAPSACK

Mexican War Style Single Bag

Early War Issue Federal Double Bag

HAVERSACK

Early War Style Issue Haversack

Two Days Rations to be carried (none to be supplied by the event hosts)

CANTEEN

Early War State or Western Depot Issue

BLANKET

GROUND CLOTH/GUM BLANKET

Vulcanized or Painted Cloth Issue Gum Blanket/Ground Cloth

SHELTER HALVES/TENTAGE

Shelter Halves had not yet been issued and are prohibited

Tent Flies will be permitted

AUTHENTICITY GUIDELINES

Federal and Confederate Uniform Specifications for Advance on Fort Henry

Advance on Fort Henry, Egyptians in Tennessee, Presented By Mess No. 1. All Rights Reserved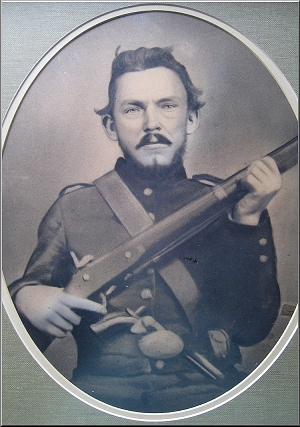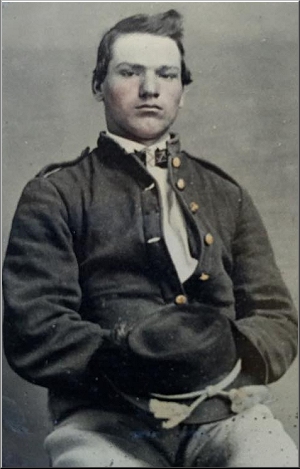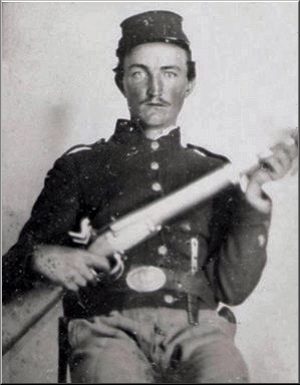 FEDERAL UNIFORM GUIDELINES - 31st Illinois Infantry


JACKET/COAT

CS Infantry Frock w/ attached Infantry Collar and Cuff Trim of dark Blue (covering the entire circumference of the cuff). This can be done to where it is temporary - if done carefully and strategically. Consider it...

Untrimmed CS Infantry Frock, of graded cloth of similar colors and hues, with a special request of browned or oxidized jeans.

CS Infantry Frock w/ French Blue collar and cuffs with partially wrapped cuff trim (i.e. the 'Tennessee Pattern' Frock) - OR - CS Infantry Variant Frock with Blue Trim on collar only.

Civilian or Civilian-Patterned Skirted Coat of Gray or Oxidized Natural Colors and Hues. Civilian patterned overcoats and overfrocks of similar color and hues are strongly desired.

CS Military Overcoats and/or Short Jackets are discouraged and are not desired.

TROUSERS

Infantry Pattern trousers matching (or closely matching) the coat colors and hues w/ attached 1/2 Inch (w/ variation) natural fiber tape trim of a black or drab color.

Any Civilian or Infantry Pattern Trousers in earthy colors and hues with the above attached trim. Try and match or coordinate with your coat and/or your kepi if you wear one.

HEADGEAR

A kepi of matching (or coordinating) Gray or Oxidized Natural Colors and Hues. (w/ or w/o black/drab trim & w/ non-functioning visor)

Any style wide brimmed hat of a flat or telescoped crown in a darker color (black/drab, brown or dark gray) that could have been offered as an early issue. Pin it if you want..

Any wide brimmed civilian style hat or slouch hat (Darker tones are preferred) in a more limited number.

MISCELLANEOUS GEAR

Accoutrements should be of a non-descript nature and in good order matching the weapon's ordinance, ideally, if you are able.

Shoes should be of correct manufacture and may not be of obvious US Issue.

CS Haversacks of documented order are required.

CS Canteens of documented order are required.

Blankets and clothing should be of CS or Civilian procurement. Carpets and horse blankets and heavy wool trade-weight blankets are encouraged for this impression, to be used as wraps and ponchos.

Knapsacks are discouraged for this event but may be accepted in very limited numbers. Bedrolls, Tumpline Rolls, Hobo Rolls, Carpet Bags and Valises rigged to be attached and carried on your person - are strongly suggested.

ARMS

Smoothbore Muskets of Common Manufacture or Common Conversions

19th or near 19th Century Flintlock Muskets

Southern Manufactured three-band Percussion Rifles (US Arsenal Copies)

US Period-Contemporary Percussion Rifles

CONFEDERATE UNIFORM GUIDELINES - 4th Mississippi Infantry